ESTATE PLANNING NEWS & ARTICLES
Estate Planning at the Holidays?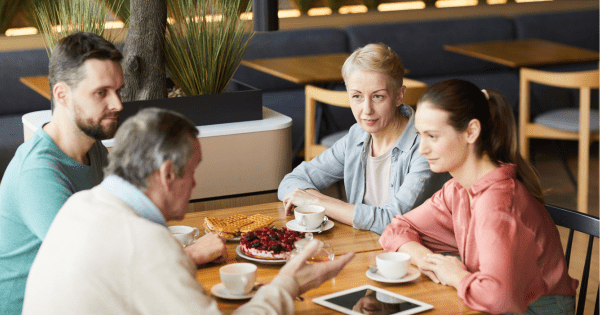 Every year the Holiday Season seems to start the day after Halloween, to some even earlier! Many companies still have a remote workforce which means holiday travel has stretched out before and after key days like Thanksgiving and Christmas in a way we have never seen before. We are focused on Black Friday shopping thanks to overtures by retailers. But what really is the best gift you can give any one in your family this year? Some might say peace of mind. So maybe now is a good time to discuss and then make plans to put your family's blueprint for the future into play.
Bringing up the topic of estate planning at a joyous family holiday may seem counterintuitive or uncomfortable, but it's a good opportunity to avoid surprises and get everyone on the same page. Here are some helpful tips to navigate such a session:
Why It's a Good Time
With families scattered across the country or even the globe these days, the holidays might be the only time to address important issues with everybody in the same room. At the very least, it is a great time to get people thinking and it should be a topic that is revisited as tax laws and circumstances change. We recommend that you treat the discussion as a separate family meeting by doing the following:
-Ban cell phones from the room
-Get someone to watch the younger kids
-Make sure anyone unable to attend is included in a conference call or video conferencing
How To Make Sure It Goes Smoothly
The first and most important way to make sure that this type of family meeting is successful is to be sure everyone is aware of the meeting and it is a NOT a surprise. Secondly, make sure that the Matriarch and Patriarch of the family lead the meeting. As heads of the family, Mom and Dad are the ones to engage the family in a discussion about their estate planning intentions; they have to let the family members know that this is going to occur while the family is together. It can't be the family just sitting down to Thanksgiving or Christmas dinner and, "oops," a critical estate planning issue comes up.
Other Important Points to Keep in Mind
-At this kind of family meeting, you can get insight about different family member's priorities for estate planning while keeping the conversation light and positive. This is a great time to take note of who is interested in which assets. We've learned that the biggest disagreements are over items of little economic value, but huge sentimental value. Therefore, we give you a specific document to keep that allows you to update who is getting which assets at any time.
-If a family member acts or feels uncomfortable participating in this family meeting it is important to note that perhaps they aren't the right person to name as power of attorney or to serve as executor of the will. Use this time wisely!
While there isn't a consensus on whether or not the holidays are the best time to set an estate plan in motion, they do offer at least a good opportunity to address concerns and answer questions about the future. As the family grows and changes, such meetings can be used to answer a broad range of questions so everyone is on the same page when it comes to the family's future.
Updated 11/23